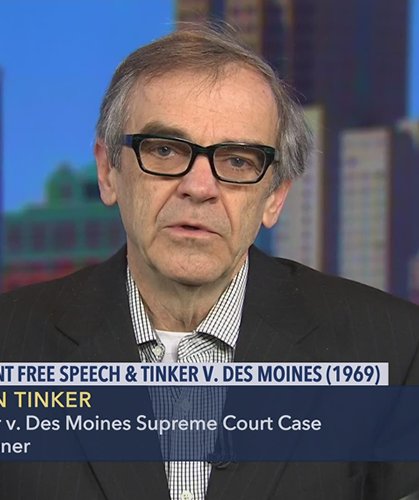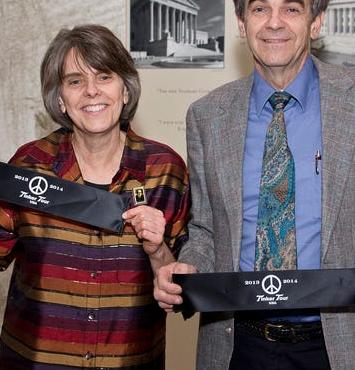 We help educate.
Our Mission
The  mission of the John F. Tinker Foundation is to promote awareness and understanding of the First Amendment rights of students and teachers, and to facilitate civil conversation about controversial social issues.
We are proud to announce the creation of the John F. Tinker Foundation in commemoration of the 50th anniversary of the landmark First Amendment U.S. Supreme Court decision, "Tinker v. Des Moines".
In 1969 Justice Abe Fortas, writing for the majority articulated the fundamental reasoning behind First Amendment rights, and in particular emphasized the importance of respecting these rights within our public schools, both for students and for teachers. He famously wrote:
"First Amendment rights, applied in light of the special characteristics of the school environment, are available to teachers and students. It can hardly be argued that either students or teachers shed their constitutional rights to freedom of speech or expression at the schoolhouse gate." 
For half a century this decision has protected the fundamental right of students and teachers to express their opinions within the school setting. What could be better preparation for becoming engaged, participating, citizens in our democracy? What better groundwork can be laid for the democratic ideal of civic conversation, than for students to be exposed to diverse views? 
This landmark case has resulted in the "Tinker Test", a rule of thumb that school administrators use to determine when student expression must be allowed.
For fifty years now, the majority opinion from Tinker v. Des Moines has supported the rights of all students to say what they think. Students, teachers, indeed our entire democratic society benefits from this case, regardless of whether we hold liberal, conservative, or other viewpoints.  
Across the political spectrum many students and school administrators understand the importance and value of Tinker v. Des Moines. And yet there are many others who may not have even heard of it, or who misunderstand what it means and how the "Tinker Test" is to be applied.
We have created the John F. Tinker Foundation in order to support the efforts of John and others to continue to speak to students, teachers, school administrators, and the lay public about the case, what it means, and how it is applied within the educational environment.
John is especially interested in facilitating public conversations by people of goodwill, regardless of what their particular opinions may happen to be. As one who "stuck his neck out" by expressing an unpopular opinion (very few opposed the war in Vietnam 1965 when he wore his armband), he understands that it is not always easy to express unpopular positions. Neither is it easy to listen to opinions which we may disagree with. Yet both of these skills are important to our democracy.
Our board members each have unique qualifications to support this work.  Gerald Steele, our vice president, is a retired history teacher and a high-school principal; Tedford Lewis is the Human Rights Director at Global Exchange; Franklin Sieberling is a peace activist in the Iowa City community; Patricia Fisher, who is  John's wife, is a dedicated community volunteer with a special focus on The Arts; Kenneth Patterson is an emergency room physician who has worked with John and Tedford on social justice issues in Central America; Steve Brown,PhD, our Executive Director, is an associate professor of educational leadership at the University of Wisconsin Oshkosh, where he teaches graduate level courses in school law to future teachers and administrators; and David Hudson, a prolific author and authority on student rights, is a professor of law at Vanderbilt University.
Our immediate goal is to promote educational events about Tinker v. Des Moines around the country as part of a year-long celebration of 50th anniversary of this historic 1969 Supreme Court decision.  We are currently seeking funding from a variety of sources to help us to organize a series of events for academic audiences, as well as to produce and broadcast content for use on Public Radio and Television platforms. We are also preparing curriculum materials related to the case.
The John F. Tinker Foundation is a 501  (c) (3) charitable educational organization, and all donations to the foundation are tax deductible.