Essay Contest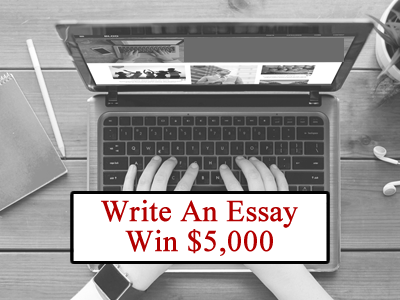 We believe that the voice of youth is essential to addressing the difficult problems that confront our world, as it is the hopes and the dreams of the young which will encounter the many complex issues that we face.
As a way to inspire young activists to engage the real world with its real problems, and to draw attention to our upcoming Fall Symposium on Student Rights, the John F. Tinker Foundation (JFTF) is excited to announce its first annual essay contest. Students many select from one of our suggested topics, or chose one of their own.
Essay Topics:
 - What do peace and freedom mean in today's world?
 - What does freedom of speech mean to you?
 - Can freedom of expression help us build a better world?
Or, chose from among these issues: 
 - How can the people of the world help to bring focus on the problems that we face?
 - How can we communicate with each other in ways that help to depolarize the sources of social conflict?
 - How can economic justice and the conflict between the rich and the poor be adequately addressed?
Or, pick any topic of your interest and convince us that it is important and that we should care about it.
Essay Prompt: On a topic of your choosing, and with reference to universal values of Peace, Freedom, and Justice, please convince us that your chosen issue is important, and present your argument using solid references, sound logic, and language which respects the reader.
We are looking for passionate writers who will convince us that we should care about their issue, and persuade us using quality information and sound logic. We would like arguments to be anchored in globally universal values that may be found within all cultures, values such as peace, freedom, justice, and well-being. How can we achieve these goals, and in particular, what issues are priorities, and what should be done about them?
 1  x  $5,000 first place prize
 2  x  $500 prizes
20 x  $100 prizes
40 x  $50 prizes.
(If you would like to donate to our prize fund, please contact us.)
All public, private, and home-schooled students between the ages of 10 - 19 as of midnight, August 10, 2022, regardless of enrollment status, are eligible to participate by submitting an essay between 500 - 3,000 words.
With your entry, in addition to your essay, please include:
 - your name
 - your contact information
 - your age as of August 10th, 2022. 
 - the name of your school or homeschool
 - your grade level, if your school has grades
Each essay will be read and reviewed by JFTF Essay Judging Committee. All decisions by the Essay Judging Committee will be final. Your essay will be evaluated with regard to these criteria:
 - How well you explained the urgency of your issue.
 - How well you support your explanations and argument with factual information, credible references, and sound logic.
 - Whether your essay is respectful of its many possible audiences (the judges, your classmates, your teachers, parents, family and friends).
 - How skillfully you write a respectful, believable, and convincing essay on a topic that is important to you.
We want to hear about issues that you are passionate about. Your argument should reference the universal values of peace, justice and freedom. We want to know why your chosen issue is important to you and what the rest of us should be doing to help you address it. 
A special panel of judges will be responsible for selecting the final Grand Winner, who will be invited to attend our Fall Symposium on Students Rights and read their essay. Additional prizes will also be awarded.
All entrants retain intellectual property rights to their essay, and agree to grant to the JFTF permission to publish it on our website.
Questions may be directed to:  mailto:info@johnftinkerfoundation.org .